Paws for Seniors
540-748-8177
Bealeton, VA 22712
www.pawsforseniors.org
For The Cats' Sake
540-675-1013
forthecatssake@gmail.com
POB 471
Flint Hill VA 22627
Facebook
Is a non-profit organization dedicated to spaying & neutering stray, feral & domestic cats, in Rappahannock & surrounding counties. As part of a network of cat rescuers for large colonies, this organization also practices Trap-Neuter-Vaccine-Return (TNVR).
Rappcats
540-987-6050
714 Zachary Taylor Highway
Flint Hill VA 22627
rappcats@rappcats.org
https://www.rappcats.org/
https://www.facebook.com/pg/RappCatsRescue/
RappCats is a non-profit that rescues, cares for, and finds loving homes for stray, abandoned, injured, neglected, abused, and feral cats.
Rappahannock Animal Welfare League (RAWL)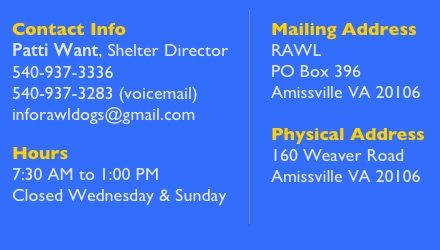 https://www.rawldogs.org
https://www.facebook.com/RAWLdogs/